Ever wonder what it's like on the other side of the camera? The team at Retail Space Solutions no longer wonders…after "starring" in a cable special, we know!
Each Saturday, the globally broadcast Trending Today features short video segments that celebrate entrepreneurship and innovation to inspire those with the American Dream. Big and small, Trending Today on Fox Business Channel has featured companies in different industries including big names like Firestone, Yamaha, Ancestry and more. The latest feature? Retail Space Solutions.
How were we chosen for Trending Today?
Fox Business Channel's Trending Today producers hand-picked Retail Space Solutions from the thousands of eligible U.S. companies hoping to be featured on the popular segment. Trending Today reps saw our advertisements online and reached out to RSS President Scott Ceru to check if we'd be interested. After some discussion, our team agreed and signed a contract to begin filming in Spring 2022.
What was the Trending Today filming process like?
As a premium retail merchandising solution company, we know just about all there is to know about shelf merchandising. The same can't be said for our expertise in front of the lens, but we were very excited to learn. Trending Today sent out a team to assist with filming and prep. Each was patient with our team throughout the entire scripting, prep, filming and editing process. Video recording took place in March at our headquarters in Milwaukee and at Sendik's Food Market in Franklin, Wis. Featured in the production are select members of the leadership team, including Ceru, Melissa Kisting, VP of Finance & I.T., and Joe Crum, Sr. Director of Marketing & Business Development. The segment also includes an interview with Retail Space Solutions client Joe Wood, who is Chief Marketing Officer at Sendik's.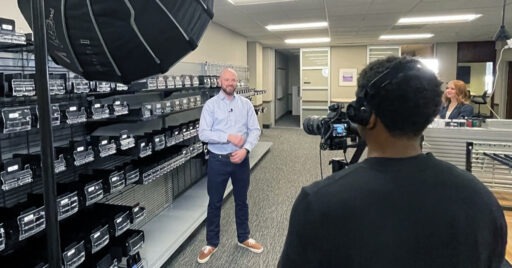 "I loved getting the chance to tell the Retail Space Solutions story in this unique way. The interview-style content, video footage and customer engagement really helped us articulate how we've built on our Midwest foundation to provide a nationwide reach. Many thanks to our friends and partners at Sendik's and Jewel Osco for helping us tell our story."

– Joe Crum, Sr. Director of Marketing & Business Development
How has the segment performed?
Our segment aired on Fox Business Channel on two Saturdays, April 30 and June 25. Trending Today, which delivers programming to around 65 million households, estimates that between 6 to 7 million viewers caught our feature. Through promotion tactics on social media, email marketing and PR, the segment has garnered 600,000 additional views.
Built on a Midwest foundation, Retail Space Solutions changes the way people shop and the way stores sell nationwide. We're excited to continue sharing our story through the Trending Today video footage.