Frozen food sales continue to soar at all grocery locations, even as some pandemic panic shoppers ease back into normal shopping routines. In January 2022, frozen food sales were up by 26% compared to 2020—an act some are calling a frozen food renaissance. What can grocers do to keep frozen foods top-of-mind for in-store and online shoppers?
First, a Brief, Cool History of Frozen Foods
While foods have been frozen for preservation since 1000 B.C., they didn't become mainstream until Clarence Birdseye filed a patent in 1927 for a multi-plate freezing machine. By placing foods between the two metallic plates at -13 degrees, products could be flash frozen. After some optimizations, the first frozen food became available for purchase in stores in 1930 under the name Birds Eye Frosted Food Company. The product line included flash-frozen meats, fish, fruits, and vegetables
The next significant frozen food milestone occurred in 1954; when frozen meals including the 98-cent TV Dinner came to market.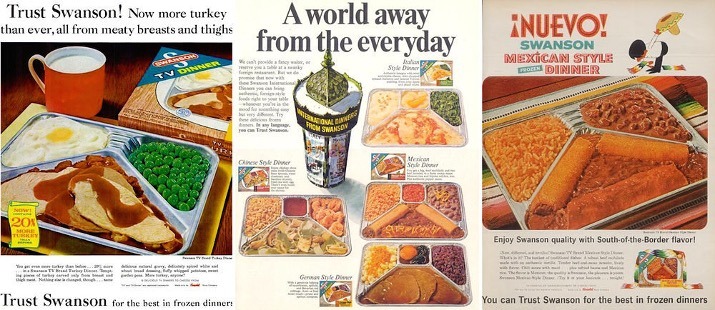 The Recession, The Pandemic and Frozen Food Sales
The correlation between frozen food sales and unprecedented events is clear. During the Great Recession of 2008-09, frozen food sales increased by 3.1%. During the Covid-19 pandemic shutdown of 2020, frozen food sales grew by 21% from the previous year, netting out at $65.1 billion. This increase can be attributed to more people eating more meals at home, but also due to supply chain issues with fresh products and general fear. These frozen foods could outlast fresh ones, and they could be stockpiled to some degree.
Some frozen foods were hotter than others. Top sellers during the pandemic included frozen produce, pizza, snacks/appetizers, and entrees. Whether breakfast, lunch, or dinner, the number of Americans consuming frozen foods at least every few days rose by 4% from 2018 to 2020 according to the American Frozen Food Institute (AFFI).
How Can Grocers Grow Frozen Food Sales Further?
Some in-store shoppers are still skeptical when it comes to frozen food aisles. By improving the appearance, your store can break the TV Dinner stigma often tied to the frozen aisle and show the diverse, healthy options available. These improvements can include better product facings, which make it easier for shoppers to see new products and the options your store has available (without letting all of that cold air out of the freezer).
Also due to the pandemic, many shoppers adopted online grocery delivery or in-store pickup – also known as Click and Collect. The research found that of those who bought frozen foods, 42% did so by purchasing them online. These online frozen food sales increased by 75% in 2020.
Retail Space Solutions Products can make your frozen food section easier to browse. And our full line of pusher display systems is built to take the extreme temperatures and customer abuse happening in the frozen case. For more information on SpaceGrid®
Shelf, SpaceGrid® II, or other innovative display solutions, visit www.retailspacesolutions.com or call 1-800-279-5291.