Consumers crave local foods. So much so that there is a word for it, a locavore (like a carnivore, herbivore, omnivore, but local). Crowded farmer's markets should not be the only access populations have to local produce and cuisine. Research from Nielsen found that 46% of Americans prioritize buying local. But that is not all—these shoppers realize a premium product comes at a premium price, and 70% say they are willing to pay more for a local product versus a non-local product.
So how can grocers carry and promote the local items shoppers are searching for? And why?
Some local items are more desired than others
Understanding the type of items shoppers are searching for will help your store stock the right items. The products they desire vary with the top local categories, including produce (58%), bakery items (54%), and eggs (51%). This shopper group is curiously less concerned about the origin of shelf-stable items and frozen foods (despite the rising popularity of frozen foods). The hottest local item? Strawberries. The research found that 62% of shoppers would be willing to pay at least 15% more for locally grown strawberries.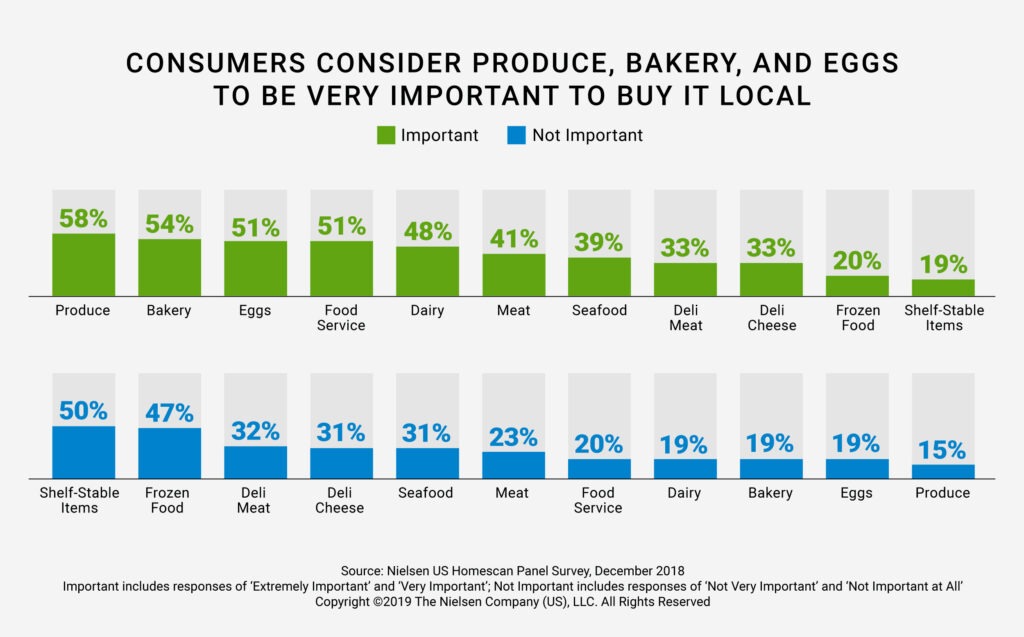 If they can't find items at your store, they'll shop elsewhere
Your shoppers are looking for fresh, local options. Despite this, many are not finding these choices at their local grocery store. Research found that 39% of shoppers have a hard time consistently finding the fresh, local choices they want at the grocery store. Keep your shoppers loyal to your store—the price of ignoring these shoppers is a costly one. The research found 85% of grocery shoppers will change from their prior store of choice if it means more access to local food.
Some stores are acknowledging this shift. The Fresh Market in Palm Beach Gardens will offer a fresh department with 100 local items from 15-20 local farms, rotated seasonally.
Providing & selling local helps small businesses and local economies
Local foods support small businesses by keeping more dollars local. And supporting the economy around your stores just makes sense. Amidst supply chain issues and public health concerns, many customers found local options to get by. They fell in love with items and the stories of the people who created them. There is also a certain cool factor to discovering new food and wanting to share it with friends.
This truism fueled Whole Foods to add "foragers", who were tasked with identifying the best local foods in communities around Whole Foods stores and working to get them added to the store's shelves. This helped grow small businesses, provided jobs, and satisfied the cravings of local shoppers.
Retail Space Solutions products can help update or create a local section within your store. Our unique pusher display systems are versatile in displaying products of all shapes and sizes to make store selections easier to browse and maintain. For more information regarding our innovative display solutions, visit www.retailspacesolutions.com or call 1-800-279-5291.