Americans love to snack. Whether chips, almonds, candy or beef jerky, these grocery and c-store purchases are an impulsive (though, not always) way to "treat yo' self". And shoppers do, many driven by the indulgence of snacking. How can these snacks be displayed in a way that stops potential purchasers in their tracks? With the SimpliStock™ Peg Pusher System – a peg system without the pegs.
But first, a few snack-tistics: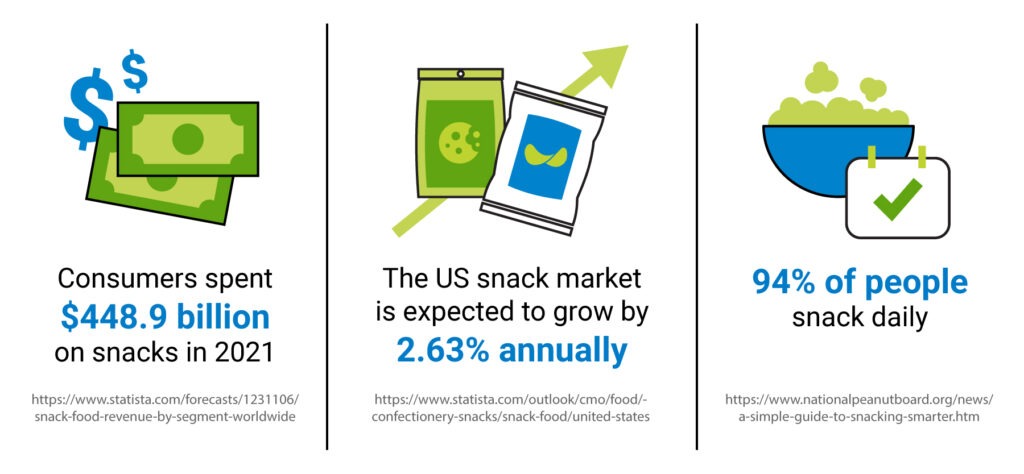 What makes SimpliStock™ Peg Special?
Attaches to Existing Structure
Installing the SimpliStock pusher trays is easy with SwiftHook™ technology. Attaching the new pusher trays right onto the existing infrastructure is fast, simple and inexpensive.
Conditions Products
With pusher trays, products easily glide forward to improve both the store's appearance and the shopping experience. With SimpliStock Peg, your store can ensure visibility while keeping items front-faced and tidy – with minimal staff intervention.
Less Damaged Products
When items are pulled off pegs, they can rip or tear leading to a clean-up in aisle three. By upgrading your peg system to pusher trays, customers can select products by simply pulling them up and out without the risk of damage.
Increased Product Facings
Add a whole additional row of products. Our lightweight, sturdy trays allow for another row of delicious snacks to sit above the gondola.
See SimpliStock Peg in action >>
See how easy it is to install SimpliStock Peg >>
Retail Space Solutions products can help elevate your store and improve your snack display. Our unique pusher display systems are versatile in displaying products of all shapes and sizes to make store selections easier to browse and maintain. For more information regarding our innovative display solutions, visit www.retailspacesolutions.com or call 1-800-279-5291.